Filed under: Investing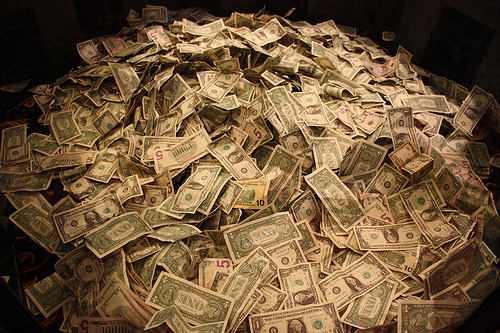 If you've given up on saving money because you think budgeting and tracking expenses are too hard, it's time to rethink your strategy. You don't have to track every penny and pinch it until Abe Lincoln screams; all you need to do is make a commitment to cutting expenses and use some hacks that help you trick yourself into saving money.
1. Cut your housing bill in half by splitting expenses with a friend
Whether it's a ride to work or a two-bedroom apartment, sharing costs with a good friend can help you cut some of your biggest living expenses -- without doing any work. After all, you enjoy being around them -- why not share a living space with a good friend to save on one of your biggest single expenses: housing.
According to the Bureau of Labor Statistics, the average American spends over $16,000 on housing every year. Having a roommate lets you put away $8,000 in savings if you can make it work. When that roommate is a good friend, it's just plain fun.
2. Slash your food costs -- just by changing grocery stores
According to Consumers' Checkbook, the difference between shopping at a Wal-Mart and a Whole Foods is a whopping $4,056 per year for the average family -- you can probably guess which store is cheaper. Commit to shopping at a cheaper grocery store -- or even just to buying generic instead of name-brand items -- and allocate the money you save straight into your savings account. You'll see your savings increase by thousands every year. 
3. Never buy new
"Never" is a little extreme, but if you tell yourself "never," it'll probably end up being the appropriate "rarely." The point is, except for perishable items, avoid buying new whenever you can. Make it into a game. What can you spend less on by buying it second-hand? Cars, clothing, furniture and just about everything else you might need can be had for a fraction of the cost, simply by going used.
Case in point: cars. If a car retains half its value after five years, it's a minor miracle. Even the highest-valued car loses 30 percent of its value after five years, according to The Motley Fool. At an estimated dealer price of over $27,000 for a new Toyota FJ Cruiser, you'd have an extra $8,100 to put in your savings account if you bought it used. Keep this in mind every time you're tempted to buy something new and shiny instead of something with a longer shelf life.
4. You'd be surprised how much you can get for free
Take on the mantra, "If it's free, it's for me." It's a fun and easy way to remember that free stuff equals a bigger savings account. One great way to do this is to keep your eye on the "free" section of Craigslist. The most common finds are items that are more expensive to throw away than give away -- like couches and TVs -- but other great deals pop up all the time.
5. You can make rewards cards work for you
A rewards credit card is a great way to trick yourself into saving money. Gas or cash-back rewards pay off, as long as you only use the cards for items you would buy anyway and pay the full balance every month. It's like getting an instant discount on gas, food, clothing or whatever else you purchase. You can even buy gift cards to the stores you frequent most, giving you another instant discount.
6. A little bit of change can go a long way
How you manage your spare change can have a big impact on how much money you can sock away. Make a habit of stashing the change in your pocket, in a jar or even a traditional piggy bank. Once a month, run it down to the bank. Or -- even easier -- you can take advantage of bank programs like Bank of America's "Keep the Change," which rounds up every purchase to the nearest dollar amount and puts the change in your savings account. Not only does this increase your savings, it makes it easier to reconcile your statement every month -- and these programs often match your savings for a the first few months, as well, giving you free money.
Saving money is only as hard as you make it. Use these simple hacks to trick yourself into saving more money.
This article originally appeared on GoBankingRates.
Looking to save more money? Take advantage of this little-known tax "loophole"
Recent tax increases have affected nearly every American taxpayer. But with the right planning, you can take steps to take control of your taxes and potentially even lower your tax bill. In our brand-new special report "The IRS Is Daring You to Make This Investment Now!," you'll learn about the simple strategy to take advantage of a little-known IRS rule. Don't miss out on advice that could help you cut taxes for decades to come. Click here to learn more.
The article 6 Everyday Hacks to Help You Save Money originally appeared on Fool.com.
Try any of our Foolish newsletter services free for 30 days. We Fools may not all hold the same opinions, but we all believe that considering a diverse range of insights makes us better investors. The Motley Fool has a disclosure policy.
Copyright © 1995 - 2014 The Motley Fool, LLC. All rights reserved. The Motley Fool has a disclosure policy.
Read | Permalink | Email this | Linking Blogs | Comments